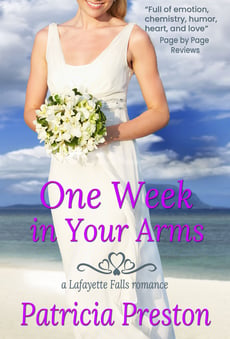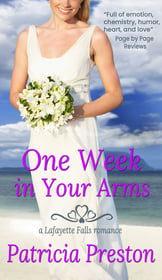 Everything His Heart Desires
Lafayette Falls Romance~ Book One
In high school, "Hot Rod" Harris dismissed Natalie Layton as a slacker whose saving grace was her family's fortune. Now it's payback time as Natalie becomes the key to the ambitious doctor's success and everything his heart desires.
Dr. Marla Grant finds herself in a dilemma when the funding for her community clinic is threatened by none other than the powerful billionaire of a long-ago fling and the unsuspecting father of her child.
Sign up for Patricia's newsletter and get a free copy of One Week in Your Arms!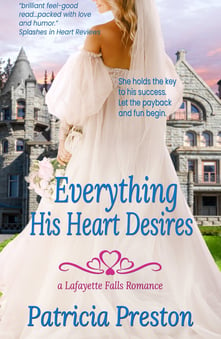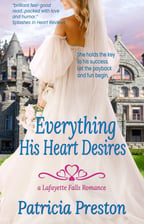 Thanks for stopping by my website! Writing stories, especially traditional romance, is my passion, and I'm always thrilled when readers visit my website to learn more about my books. The "Read More" buttons will direct you to that book's page, where you can read more about the story. Check out the Books tabs for book pages with information about each series.
Be sure to sign up for my newsletter, and if you would like, you'll get a free review copy of One Week in My Arms via BookFunnel.
Click: Sign Me Up


Reviews are a great help to authors, and if you enjoy any of my books, please consider leaving a rating or review of the story. I appreciate that so much!!!
If you have any concerns about content or triggers in my books, please click on the Content Advisory for a general overview of content, which should help you decide. All of my books are suitable for most readers 17 and older.
All my books are available on most ebook retailers, including Amazon, iBooks, Barnes & Noble, Kobo, Smashwords, plus others and Overdrive and Hoopla. All the buy links to my books are conveniently located on Books2Read.
Check out my book inspiration boards on Pinterest