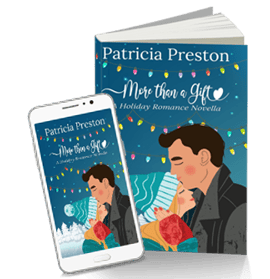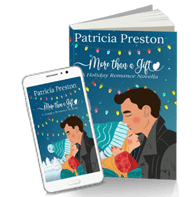 A Delightful Christmas-Valentine's Day Romance
Falling for Santa is not on Holly's to-do list
Holly moved back to Nashville after being dumped by her boyfriend/boss last Christmas. Now she plans to avoid office romances and all things Christmas this year. While at the mall, a flirty, sexy Santa convinces her to give love and the holidays a second chance. Is it possible that a stranger in a Santa suit might be Mr. Right? No way.
With the family construction business booming, Blake returns home for his favorite holiday. Although he's sworn off romance, he finds his brother has hired his dream girl. Unbelievable. When a charity gig has him working as the mall Santa Claus, he can't resist being Santa to Holly's Scrooge. Nor can he deny the chemistry between them.
But will that chemistry flame out when Blake is stranded at Holly's house during a winter storm and she finds out her amazing Santa is actually her boss's brother, Blake Andrews, who is totally Mr. Wrong?
MORE THAN A GIFT is a fun, feel-good holiday romance novella adapted from the previously published short story. It is about 25K words. The romance is sweet with some spice. Think Hallmark with heat. Closed-door love scene. Contains some mild language.
You can purchase MORE THAN A GIFT at most ebook retailers for 99¢. It is available in ebook and print at Amazon. It may be available to borrow from your local library. Click Books2Read More Than A Gift