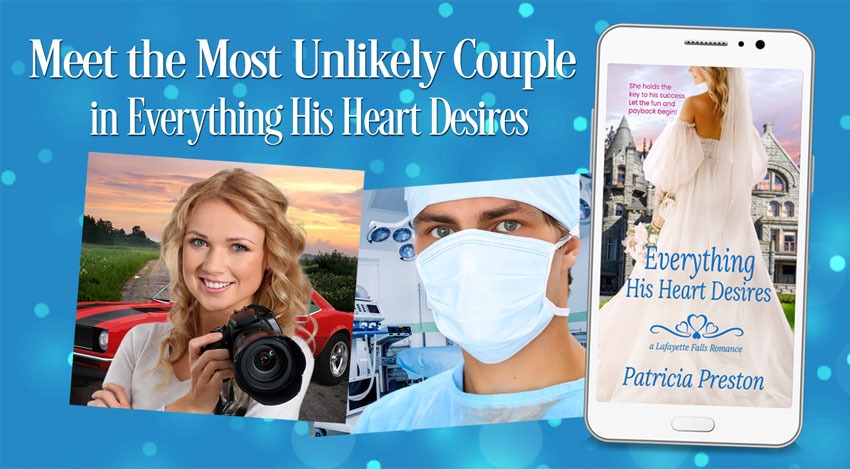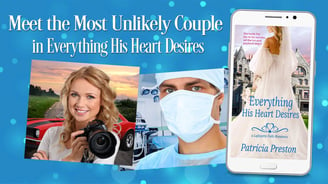 Everything His Heart Desires
A Lafayette Falls Romance~Book One
In Lafayette Falls, Senator Layton's daughter, Natalie, charmed everyone in high school except Brett "Hot Rod" Harris. Growing up poor on Trinity Road has only fueled his ambition, and Brett dismissed Natalie as a slacker whose saving grace was her family's fortune and the one girl who was beyond his reach.
Home for the holidays…After years of working in war zones overseas, widowed photographer Natalie Layton returns home with a battered soul. She's happy to reconnect with her family and old friends. Yet she didn't foresee being roped into a plot that reunites her with Brett Harris, the one hot guy in school who constantly taunted her. Natalie is delighted to turn the tables on him.
Now a cardiologist, Brett sees the ultimate opportunity when the wealthy, influential Layton family promises him a coveted position at the hospital in exchange for helping their stubborn but ailing matriarch. Brett jumps at the chance. The only catch? He'll have to team up with Natalie to win over her pretentious grandmother.
As they work together, they can't ignore their attraction to each other. Brett is intrigued by the complex woman Natalie has become, and Natalie is drawn to Brett's compassion toward her. Their relationship deepens. But how can the two of them be right for each other? Ultimately, will their doubts and insecurities separate them forever, or will love find a way to overcome their misconceptions and unite them?
Brett and Natalie's romance begins the series and features many of the series characters. It can be read as a standalone book. The story has multiple POVs, told in 3rd person. Heat level is warm, with romantic open-door love scenes. Although there is some drama, there are also lots of fun scenes and family moments.